Eclisse – Boosted OP Distortion
What a magic moment is the eclipse.
An instant-long distance between two ever fighting universes: the kingdom of the Light and the kingdom of the Darkness. The shining and energizing sunlight rising up on the horizon and leading us to the day, versus the night, the darkness dominated by the gloomy,dreamlike moon. As in a game of mirrors, during the eclipse we find the perfect melting of the two hemispheres which are dancing with us all our life long.
Earthtone wanted to pay homage to this magic moment with a new creation, in perfect harmony with the natural power produced by this wonderful experience.
Eclisse is borne!
ECLISSE is a powerful overdrive with full-bodied, warm timbre, worthy to ride all the stronger music styles : heavy metal, thrash, speed, hard rock..
Not only, with ECLISSE we wanted to hazard much more: exactly as in the precise instant when the moon eclipses the sun, we created a double timbre behavior in the same pedal. The cornerstone of this change is the pre-amp circuit controlled by the "Q" potentiometer.
Through its stroke, ECLISSE can reach up both these timbres which are close to Eddie van Halen typical sounds, with true body and strength in the medium low ones , and again, it can jump to the opposite spectrum, towards dig medium tones and to the band farthest ones , as pointy as in Metallica style.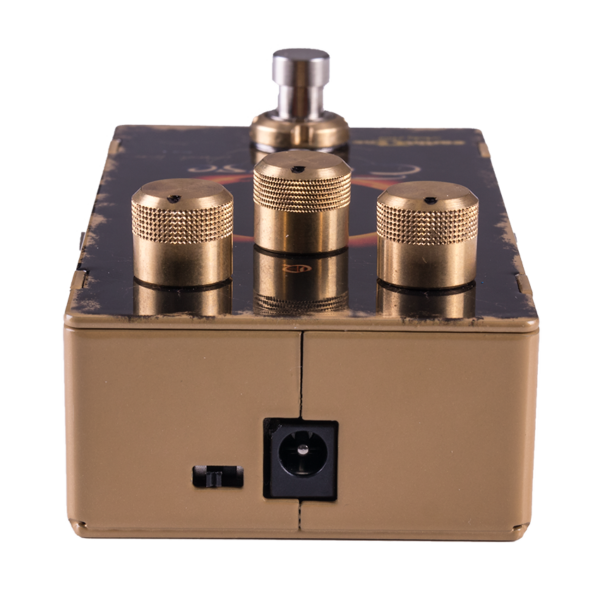 The amplification and distortion section provides such a wave squaring , so efficient and noiseless, which is able to bring ECLISSE to these sounds very close to the memorable HIGH GAIN amps , directly from the Metal style history.
The ease use and the great versatility offered in hard rock atmospheres don't leave space to the distortion cleanliness. ECLISSE can be fiddled in "palm muting", and on the contrary it can aggressively cry during the solo's high-pitched notes of the handle.
Exactly as the Sun and the Moon, in incessant fighting during few instants of magic, ECLISSE lives of its own unique and absolute energy.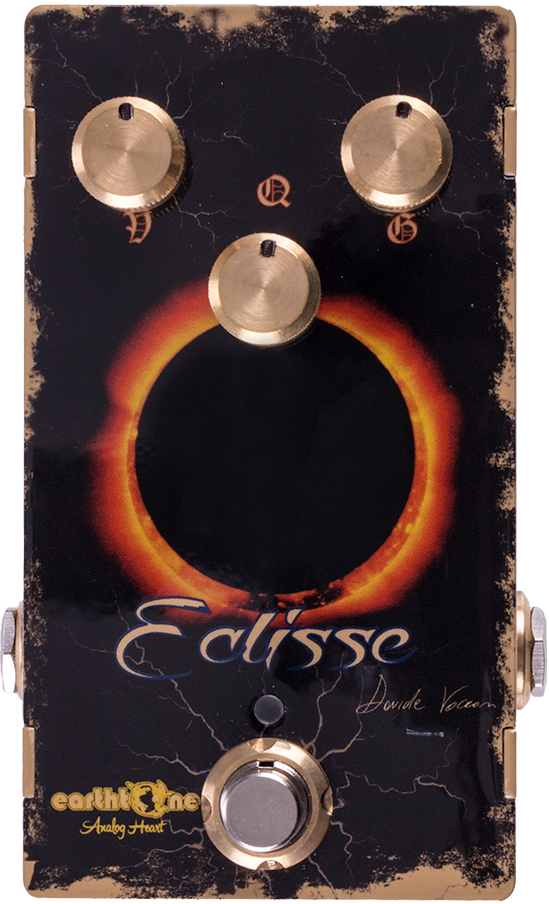 +/- 8 dB @ 5Khz
Tone High
+/- 8 dB @ 500 Hz
Tone Low
0,7{6bba0628551b6b867cdf73f88c9e8ceee78eb64d553440b26029bff0be4623e3}
Dist. Armonica Min. @ 440 Hz
20{6bba0628551b6b867cdf73f88c9e8ceee78eb64d553440b26029bff0be4623e3}
Dist. Armonica Max. @ 440 Hz
100 K
Impedenza di Uscita