Sicilia is Earthtone's first natural Overdrive circuit. At the base of Sicilia's philosophy there is the dynamic freedom on which we continue investing time and research. An acid fragrance, warm and encouraging at the same time, that easily varies and adapts itself to the guitar player's control.
The signal is amplified through Earthtone Sicilia from a first transistor and then from a next in Darlington connection. The result is remarkable already at a low volume, with a balanced selection of medium and medium-high harmonics. With minimum drive Sicilia becomes a booster and increases the gain of 10/15db, mantaining the timbric characteristics explained above.
Increasing the drive naturally, the signal starts to distort due to the double amplification reaching nearly 35/40db in output.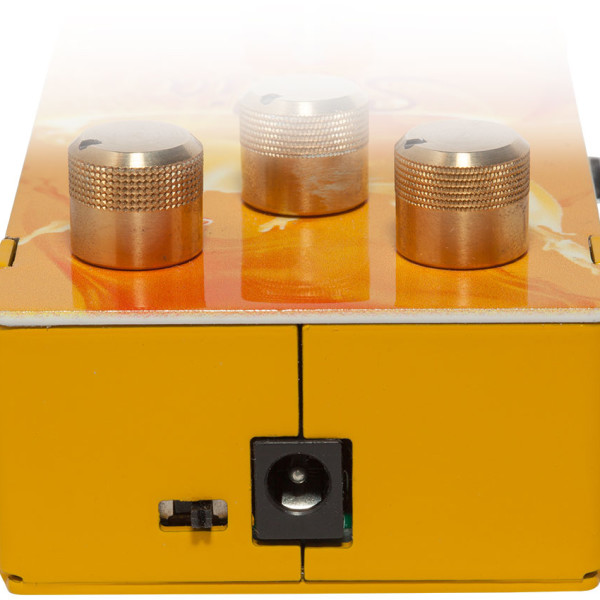 In Earthtone Sicilia, the distortion is induced in the amplifier and not created internally. This gives great dynamic freedom to the guitar player, who has a very wide expression just through the pick or the volume of the guitar. In the Orange circuit, the tone control has been inserted between the pre and the final, just as in the Fender amps. In this position, the tone induces the circuit to act on determined harmonics.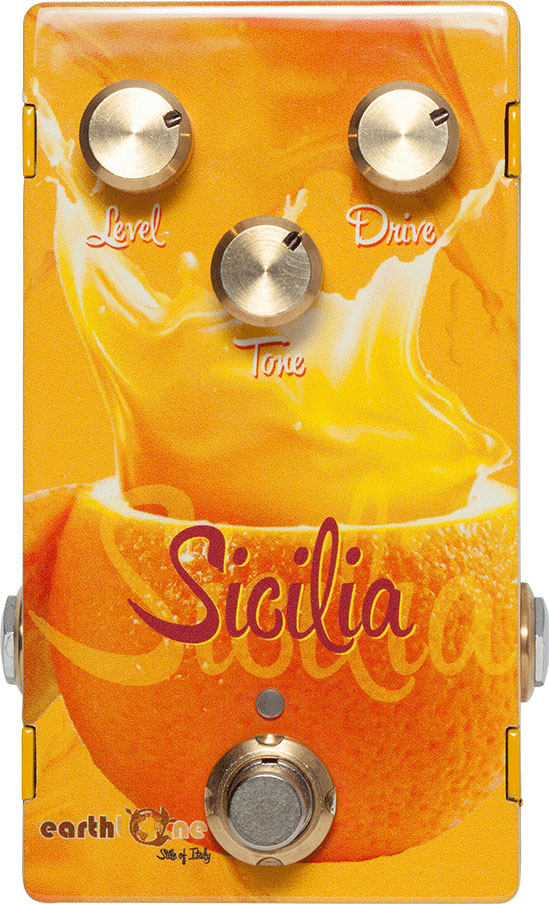 The sound has typical Blues features, especially clear in the solo parts. What happens can be seen as an harmonic selection which will give different characteristics to the sound in the second transistor. This allows total freedom to the two transistors without decreasing the output signal.
This circuitation combines the natural form of the amplification, without decreasing the harmonics and warmth of the sound. Sicilia, as every Earthtone boutique pedal, can be used as a pre or in output at the loop effects, preferably keeping the modulators( delay, chorus, flanger…) in Input.
There are two selections available through the external microswitch:
High Gain – Low Gain.
+5/-20 dB @ 5 Khz
Tone High
0.5{6bba0628551b6b867cdf73f88c9e8ceee78eb64d553440b26029bff0be4623e3}
Armonic Dist. Min. @ 440 Hz
45{6bba0628551b6b867cdf73f88c9e8ceee78eb64d553440b26029bff0be4623e3}
Armonic Dist. Max. @ 440 Hz