"Mamma Mia!" It's exactly what I shouted out as soon as I activated the footswitch of the new fuzz by Earthtone. Something absolutely new and powerful hit my ears, leaving me surprised and speechless! You will feel like those who saw the first live Hendrix shows. Mamma Mia embodies exactly this same image! That expression of surprise, that moment out of time. Pure excitement! Mamma Mia is a full Germanium fuzz with two AC157 transistors following the tradition of the greatest effects from the 60s and 70s.
Earthtone Mamma Mia is a boutique fuzz pedal built with top level components, no-noise and great dynamics.
As all our effects this product is the result of a great and deep research that led to a completely newly designed circuit. Our goal is to give the guitar players and all the musicians new products in the analog world, with tubes and transistors, mixing the great and inspiring tones of vintage gear with today's knowledge and technology.
"Mamma Mia!" is the first exclamation an Italian shouts when something unexpected and great happens. It reminds of the dismayed expression of a 60s pinup who has just seen something incredible and new!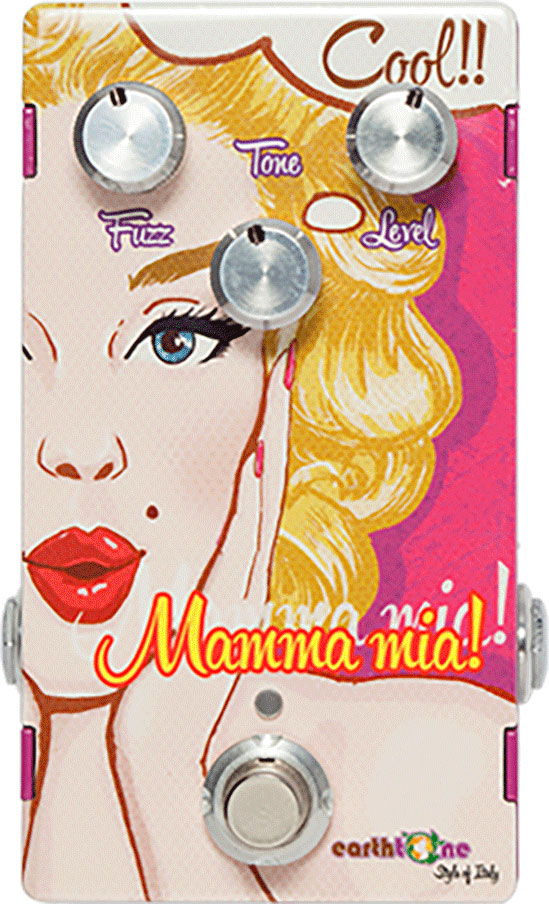 +5/-20 dB @ 5 Khz
Tone High
0,5{6bba0628551b6b867cdf73f88c9e8ceee78eb64d553440b26029bff0be4623e3}
Armonic Dist. Min. @ 440 Hz
70{6bba0628551b6b867cdf73f88c9e8ceee78eb64d553440b26029bff0be4623e3}
Armonic Dist. Max. @ 440 Hz